ARE YOU READY TO QUIT SMOKING?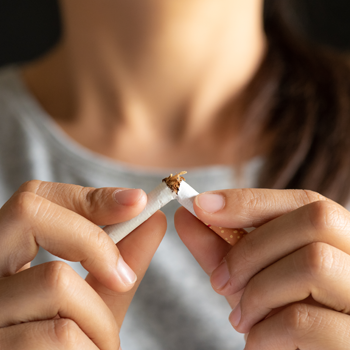 Mark Twain said "Quitting smoking is easy. I've done it a thousand times."
Have you been unable to quit smoking? How many of these methods have you tried? Prescription Medications, Nicotine Replacement (patch, gum, nasal spray, inhaler, lozenges), Acupuncture, Magnet Therapy, Laser Therapy, Filters, Deterrents, Herbs and Supplements, Mind-Body Practices, Electronic Cigarettes, Nicotine Lollipops and Cold Turkey.
WHY IS IT SO HARD TO QUIT SMOKING?
Nicotine is an addictive substance that is found naturally in tobacco.
To be successful in finally quitting smoking for good, three different aspects of Nicotine Dependence must be addressed:

1. Physical Addiction (the lack of nicotine leads to unpleasant physical symptoms called withdrawal)
2. Habit (which calls for a major change in behavior developed over a lifetime)
3. Fear (emotionally the smoker may feel like they have lost a lifelong companion)


WHY HYPNOSIS?
FOR THE QUITTING PROCESS TO BE SUCCESSFUL, ALL THREE ASPECTS OF TOBACCO USE MUST BE ADDRESSED
HYPNOSIS ADDRESSES ALL THREE ASPECTS OF SMOKING.
Even though you may appear to be in a trance during hypnosis, you are not unconscious, you are not under anyone's control, you do not lose control, you are awake and aware, and despite what many stage performers may claim during a show at a comedy club, you cannot be made to do anything against your will.
FOR A FREE CONSULTATION CONTACT RANDY CISNE TODAY!
TEXT OR CALL (941) 205-2888
EMAIL: This email address is being protected from spambots. You need JavaScript enabled to view it.